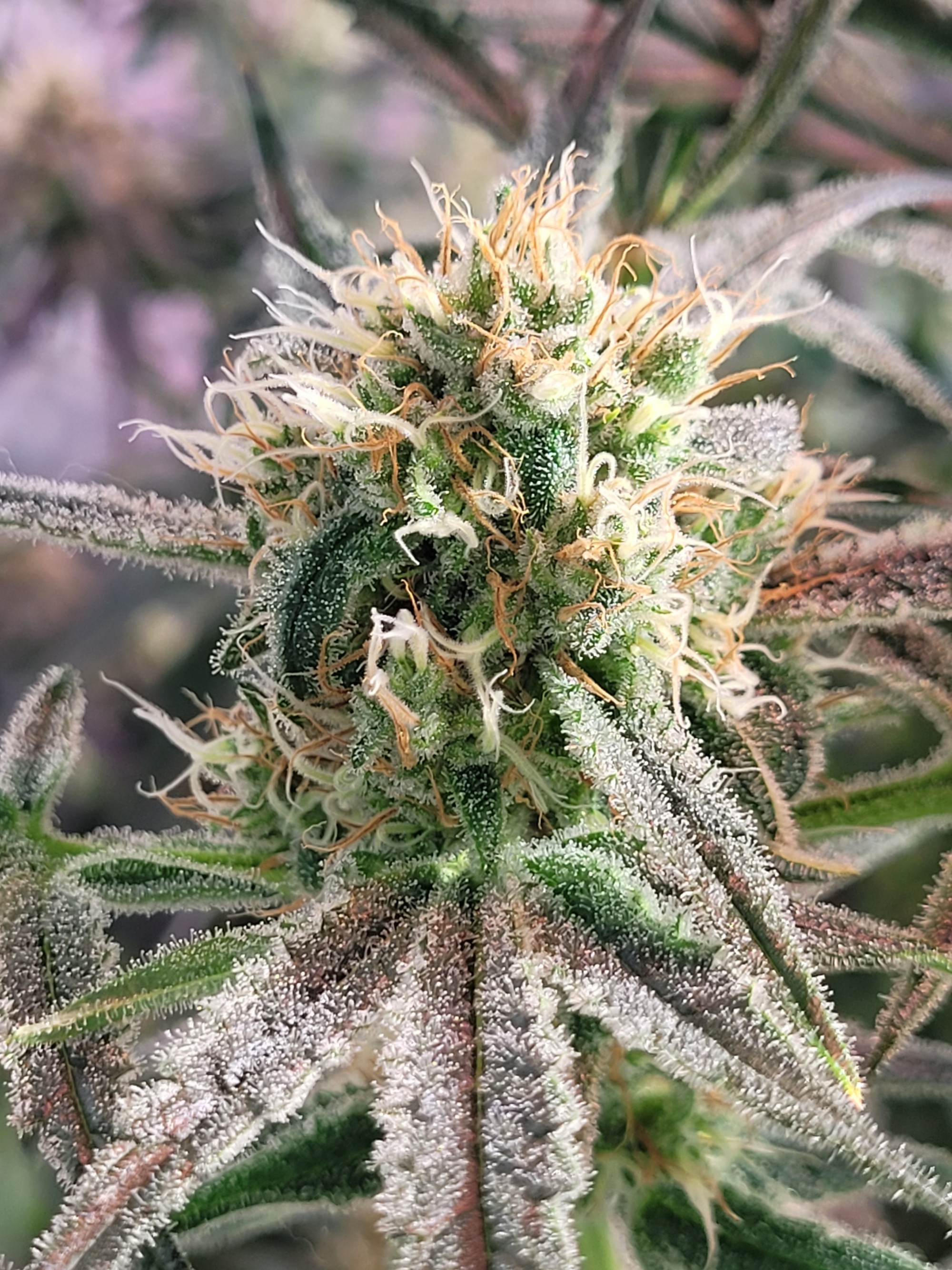 Hello everyone!
As I'm in the mid 6th week of flower I did start using the purpinator on my grow to see if this shit actually does anything.
I started using it on the onset of 12/12
At about 40 ml per 15 gallon so roughly 2.5 ml per. My thoughts lol?
Ok well for starters it adds serious weight to your colas. All my branches are dropping big time and require everyday tie downs and support work but what's most noticable is the fragrance. I've never had a more scented grow rm, EVER! Talk about fragrance man! So bad that I threw in another 6" fan and filter and now in the market for an 8" set up.
Next up I'm gonna use it on strains I grew out before and see the real difference so those of you that have it, use it man!
Pictures are of b52 buds.
Simply beautiful and sugar frosted up the ass!
I'll post on the finale but I will be using this again!
Pipes, what do you do with those ridiculously resinous sugar leaves ?

I usually give them to my nephew's mother in law.

I wish I had the time to use them cuz it's a lot of leaves!

She does all kinds of shit with them so they really don't go to waste.

Cool, I am surprised your having such good results with such low doses, that makes it a hell of a lot more appealing. How do you think it compares to Terpinator? 

This is the their recommended dosage, imagine a nutrient or supplement company asking you to over feed.

Vegetating phases of growth (Week 1-4): Add 2-5mL per gallon of water.

Early bloom phase of growth (Week 5-9): Add 6-15 mL per gallon of water.

Late bloom phase of growth (Week 10+): Add 20-30mL per gallon of water.

I guess I will give it another try thanks

 

That I believe is complete overkill in my opinion! Especially when they are being fed it 6x a day every feeding.

In all fairness next grow will be with a strain that I've grown out a few times and I guess this will be a good way to tell if it's the real deal.

Good point on the over kill feed rates and I dont think its effective in a water grow for more than a few days so I will dial it down in the res for the auto feed add less to that res but add it more frequently. I have a gallon of Purpinator on the way, I will see how it does on these clones compared to the last grow with Terpinator. 

Thanks

B-52 is a very good quality and loud smelling strain. I flowered it out in Jan and Feb. It has that old school "roadkill" skunky dank basement type smell to it. It is not hardly as loud or long lasting skunk smell as the old Vietnamize Skunk that was brought back during the war. I think it got the name Arkansas Skunk from someone. B-52 is also a hard hitting strain. WARNING: Get too much amber in the trics and it will be only great for bedtime! You can smell that old "Arkansas" skunk with it double bagged and in your pocket from a mile away! I can't grow it indoors! If you wear the same pants the next day your buddies will accuse you of holding out on them! I am being serious! There is no way to tote it and conceal it. I am using the Purpinator sample, that I forgot I had until someone mentioned it on here a few weeks ago, on some Gorilla Glue #4 that I have run 3 times in a row so far. They are all clones from 1 plant. I am about to see if it helps me out any in my garden! I flipped on 5-31-21 so June 1st was day 1 of flower for those. I already have pistils everywhere so I don't know why it wouldn't be day #4 today and they are stretching hard. 4 inches yesterday! I don't even grow anymore without multi layers of netting. It is to cheap and easy to install and let the plant grow through it to provide support. It is great as long as you have automated watering or a watering wand/pump setup and a shop vac with extension for runoff removal. I started using the Purpinator at 5ml per gallon a week before flip. I also started feeding my transitional feedings and a little Liquid KoolBloom (.5 ml per g) then too just like I have been for a while now. I have found that it seems to be best to feed them for the future instead of for the stage they are in at the moment in FFOF. That would mess up a hydro grow! I been getting around 1.75 lbs. from each run the past 3 runs. Maybe it will beef them up even more and enhance the fragrance. If it did make it any louder smelling I would defiantly have to upsize my fan and filter. I could smell the B-52 at the mailbox with a brand new filter! lol

"Bummer my weed smells to strong,"  said only one person ever, lol. I think it was Roscoe that talked about the Arkansas Skunk, 

I like this strain very much so far and surprisingly because other then you, I haven't heard of others here growing it but yo, word gets around, people see what's happening in the grow room and how can you not like what you see? I'm very pleased!

Thanks for your input brother! Hopefully others will grow this one out as well!

Sounds too good to be true. If that is your first run at that strain then I would need more convincing as you say must be tried on a strain grown multiple times. I only use terpinator to lower my ph instead of using ph down cause I saw and smelled no difference so I'm curious on you results. As always killing it brotha.

You'll have to test it on a pair of clones man no 2 seeds are 100% identical, even if there from the same genotype.
Not logged in users can't 'Comments Post'.