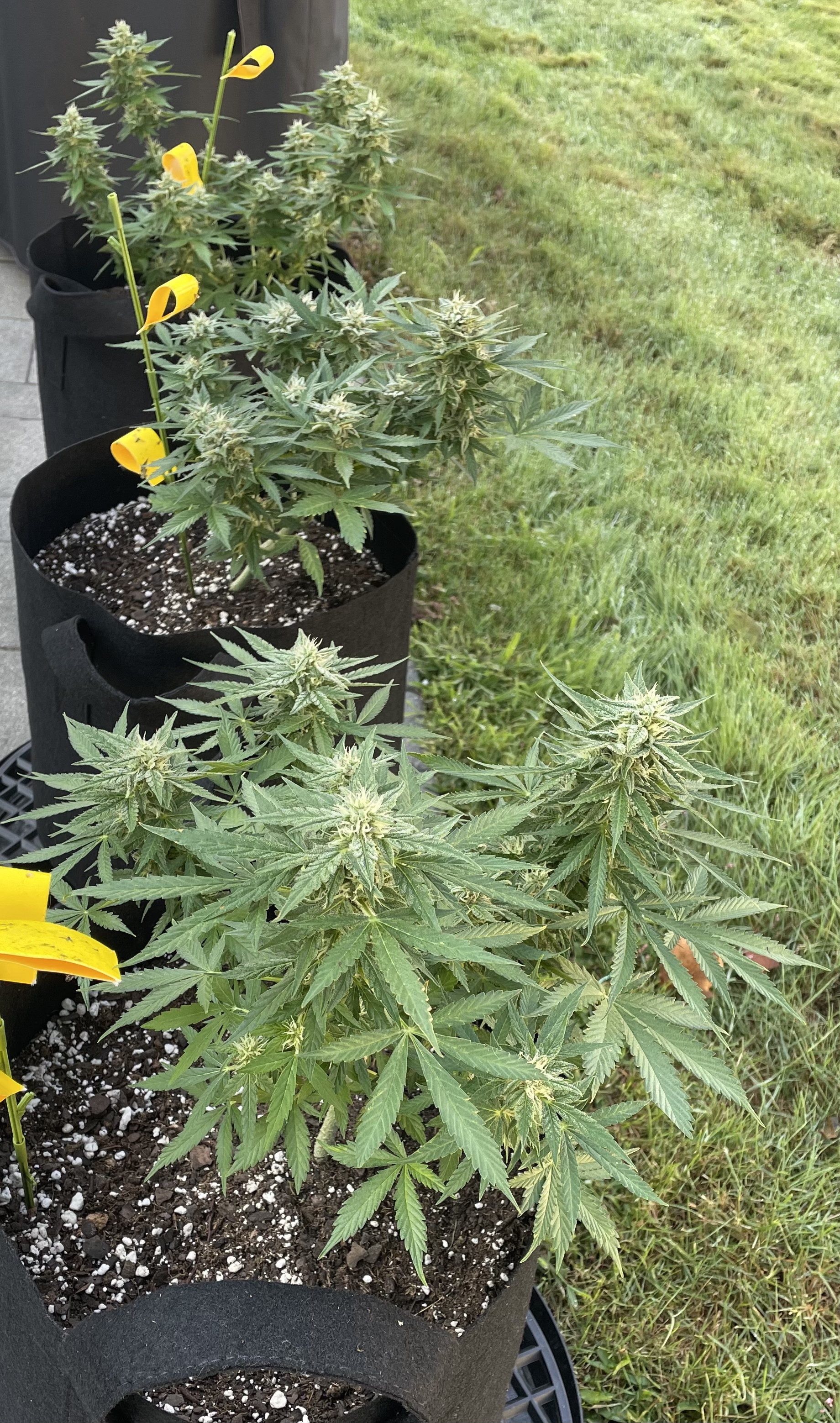 First time growing autos I put them straight into a 7 gallon pot of fox farm O.F started them on 24 hours under a T5 then moved them under the led light at 20/4 for about4 weeks then I moved them out side and started them on there nutrients they seem healthy enough and look happy but I don't think I'll yield much out of the three plants but the buds do look good 
don't know if I will try other strains auto or just stick to my photo strains still have 2 more seeds is there something more I can do to make auto yield more ? 
I think Auto's need a lot of light to get much size on them. If you think about it they are vegging and flowering at the same time so it must take a lot  of energy. I dont have a clear spot to put them really so they get more than 12 hours of light outside, the ones I grew inside were monsters though.

Then it could be all this bad weather I've been having in my area all the storms that have came by and all the cloudy day's it must have something to do with it 

Indoors they can get huge in the right conditions especially of you keep pouring the N to them. If you think about it aren't they vegging and flowering at the same time during a big part of their life. If you keep up pouring the light and feeding them I dont think they ever really stop stretching.

The Great Pipeman & Marlboro Auto Grow was my first time really trying to grow an auto and first grow in the RDWC. I kept feeding them N until the 7th or 8th week I think and I had to super crop the Pineapple Express and the Gorilla Glue 3 times to keep them out of the HID's. The smoke was good on all of them, but they were all different phonotypes from the same breeders and you cant clone them for the way I want to grow. I did hear a rumor that Autos Suck and whats his name didnt kill himself in that cell..  

They don't like stress.  Stress stunts growth. I know my  photo period was slower but could take a hell of a lot more stress than my Auto.  I was always disappointed in her size till she was really flowering and she busted loose with a huge stretch. She must have grown well over half her size.  I grew at 18 & 6 the whole time. I  planted in a 5 gallon size pot.  Temp for 1st 3 weeks were at 79 to 80 F. The RH at 65%. After that I dropped RH to 55%. Daytime temp was 75F and dark temps were 68F. They love indoors.  Moving them indoors to outdoors tends to stress them.

I started my GSC in a 5 gallon pot and she has been outdoors since she was about 3 inches tall.

Hell I stressed mine like my sisters red headed step child. I even cut off the air to one to show the others what to expect if they didn't tow the line. Sadly it didn't make it but the rest out preformed what I was expecting. I think plants reacting to stress is because of weak genetics or to be PC correct their genetics are focused on other strong points to help them reach their full potential. .  Autos sort of fit the bill there, since they suck and all. LOL  

"Autos suck!" Old timers will know where this quote came from.  I'm just givin ya shit. I've never even grown 1... that I know of...he,he,he  Last season I had a Blueberry plant from purchased seed. It started to flower in early June. I'm like WTF is goin on here? I just let it go, and I harvested it in early Sept. It was a decent size plant too. 5 footer ! 
Not logged in users can't 'Comments Post'.