What is a cannabis "clone?" What are the advantages of taking marijuana clones? Well, first of all, cloning is one of the easiest and fastest ways for cannabis growers to make many new (and basically free) weed plants at once!
What Supplies Do I Need for Cloning?
Cloning cannabis is the process of making a smaller copy a specific cannabis plant. Basically a clone is a little piece of plant that has been cut off (a "cutting") from a parent plant and then given the opportunity to make roots of its own.
Cannabis clones are cuttings from a marijuana plant - these cuttings make roots of their own and grow into an identical plant as the "mother!"
Each cannabis clone has the same genes and is a genetic copy of its parent. That means if the parent of the clone is a female, you are guaranteed that all the clones taken from that cannabis plant will be female, too. Why do cannabis growers care about plant gender?
Cloning cannabis lets you make dozens of (practically free) identical cannabis plants quickly! Save your favorite plants to grow again!
Growers can take many clones of a single marijuana plant, and this is an easy way to get many plants that will grow the same way as the mother plant and produce buds with similar characteristics (smell, taste, potency, etc).
What's Great About Growing Cannabis Clones?
a clone is an exact copy of a specific cannabis plant, which means clones share the same genes and will grow very similarly to each other and their mother plant

you know a lot about a cannabis clone already, since you know what their parent plant was like. While there's a lot of variation between plants grown from seed, even if they're the same strain, with clones you'll have inside information on how the clone will grow, what yields to expect, and the bud potency (plus other characteristics that can vary in a strain like bud color, smell, etc)

you can easily take many clones at once from a single cannabis plant, for dozens of brand new plants that will be available in about a week

low cost - besides cloning supplies (which can be as simple as scissors and a glass of water), making clones is basically free

you can take clone at most points of a cannabis plant's life - although clones may root a little faster in the vegetative stage, you can take clones up until 2-3 weeks before harvest in order to save your favorite plant for the next grow (though make sure to pinch off any buds and expect some weird looking growth for the first week or two on cannabis clones taken from flowering plants)

clones get a head-start compared to seedlings - Unlike a seedling, each clone is the same "age" as the parent and therefore is completely mature. As a result clones grow much faster for the first few weeks compared to seed-grown plants, especially for a larger clone. A newly rooted clone will grow faster than a similarly sized plant grown from seed!

clones are a good choice for Sea of Green or 12/12 from seed techniques - Since marijuana clones are already mature, a clone not only grows faster vegetatively but can also be changed to the flowering stage immediately to create a Sea of Green or 12/12 from seed cannabis garden.

clones are not for everyone - many growers want to grow just a few plants of different strains. For these growers it may be better to start with seeds because seeds give you the ability to easily grow many different strains at once without having to maintain extra plants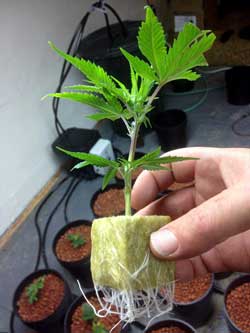 For many cannabis growers, taking cuttings and cloning can be a great way of propagating a cannabis strain or a particularly nice cannabis plant without ever having to ever worry about male plants or making or buying seeds. Each clone is free!
Like just about every important marijuana growing technique, there is controversy about the best way to clone cannabis plants. There are many effective techniques to clone plants and this tutorial will teach you how to clone today, but no matter what, cloning should only be used with the healthiest, most desirable plants you have. Although technically you can take a clone from any plant at almost any point in its life, you want to take clones of your best plants that have proven to be winners!
I don't want to make clones, where can I find seeds?